Adsys Controls' Fast Steering Mirrors (FSMs) are used for various applications including High Energy Laser Systems, Free Space Optical Communications, long range imaging systems, and precision line of sight stabilization.  We offer FSMs from 1-inch up to 8-inch sizes with best in class performance.
Passive Aerial Threat Sensor
PATS provides on-the-move sensing of extremely low signature airborne threats such as small unmanned aerial vehicles (UAVs). A distributed aperture sensor configuration with central processing unit provides full hemispherical threat surveillance without the need for broad area scanning. The result is extremely fast detection times of SUAS threats at extended standoff ranges.
XSightTM provides robust multi-target tracking, image stabilization, and video encoding on high resolution (up to 4K Ultra HD) video in a low SWaP package.
The Arrow 600 Low-SWaP HD gimbal enables small UAS platform missions previously unachievable, effectively merging advanced sensor technologies and cutting-edge on-board image processing capabilities with highly stable LOS.
SATS2 Aerial Sureillance
The SATS2 system is designed to fill critical gaps in aerial surveillance. Blending cutting-edge optical and acoustic sensing technologies, SATS2 bridges the gap between RADAR and LIDAR to deliver fast and accurate detection of a variety of difficult low observable targets.
FPGA Image Processing Toolkit
The Adsys Controls FPGA Image Processing Toolkit is a library of FPGA algorithms for image processing applications.
Gimbal Control Processor
The Gimbal Control Processor (GCP) combines power distribution, embedded processing, versatile I/O, and precision pointing control to support compact motion control needs in a low SWaP package.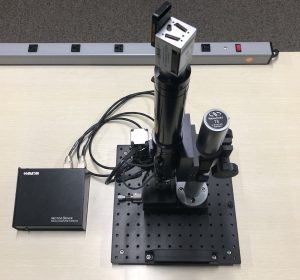 Microscopic Imaging Research Station
MIRS is a turn-key advanced microscope system for various applications requiring high magnification and complex image processing capability. MIRS is capable of imaging resolution down to 0.3 um and utilizes computer-controlled zoom and focus for ease of operation. The MIRS software platform provides powerful user-configurable image processing tools for high speed and advanced image processing applications. Image processing is implemented on either an FPGA or CPU for ultimate performance and flexibility. A high-performance camera provides color imagery with 2-megapixel imagery and speeds up to 20,000 frames per second. MIRS is perfect for research and development applications including MEMS, microfluidics, and DNA sequencing.